Wedding days are one of the most memorable days of a person's life, and capturing it through photography is essential to preserving those memories. But, wedding photography can be a challenging and demanding task.
If you're looking to make money from your photography, adding wedding photography to your repertoire can really boost your overall client base and set you apart. To help you capture the perfect shots, we've compiled four guides to help you get started in this field of photography. Learn how to take photos that will last a lifetime, and get started in knowing how to capture the beauty and joy of a wedding day! Let's begin!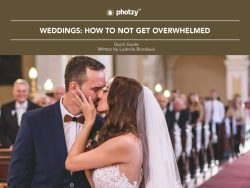 At some point during your photographic journey, you might be asked to photograph a wedding. While the prospect can be exhilarating and scary, it's important to start somewhere if you want to pursue this genre! We know that becoming a pro wedding photographer requires more than a short eBook, but this guide will provide you with valuable advice on how to handle the stress and emotions of shooting a wedding. Author Ľudmila Borošová details tips including, how to find balance with your wedding couple, and within yourself as the photographer in such an emotionally charged event. Ľudmila also covers what gear to use, how to stay up-to-date with the latest trends in the industry, and also how to set out expectations in a contract to keep everyone on the same page. Download now →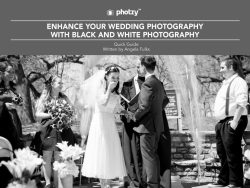 If you're looking to add depth and emotion to your wedding photography, consider the power of black and white! Stripping away color allows you to focus on the shadows and tones of grey that can add layers of meaning to an intimate scene. By removing color, black and white photography can help you capture the true emotions of your subjects. That's why it's been a timeless and popular choice in wedding photography. This guide details how you can incorporate black and white techniques into your wedding photography so you can create stunning and evocative images that capture the essence of a couple's special day. Download now →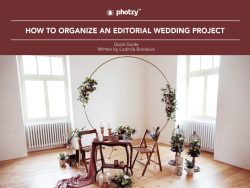 Editorial wedding photography is highly sought-after as it produces unique and personalized pictures. Many couples want to move beyond stiff, generic poses – editorial photography allows you to capture the essence and personality of your subjects! Whether you're a budding wedding photographer or a seasoned professional, it's always a smart move to include at least one or two editorials in your portfolio. In this guide, you'll learn what makes an editorial photo, why it's essential for your brand, and how to organize a successful editorial wedding shoot. Download now →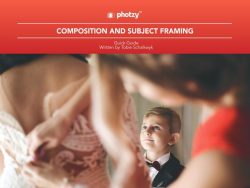 Frames can serve many purposes in photography, such as emphasizing and drawing attention to your subject, creating a mood, or achieving a specific artistic effect. They can also help eliminate clutter and distractions from your composition, allowing your subject to take center stage – something that is also very important to know in wedding photography too! If you're looking to improve your composition skills and add a new dimension to your wedding photography, you definitely want to learn how to use frames effectively. Let Tobie Schalkwyk guide you through the process in this informative guide. Download now →
Further Reading
If you want to learn more about producing more share-worthy black and white photos beyond wedding photography, check out the Better Black and White Guide. With exact and practical follow-along instructions, you can learn how to create compelling and beautiful black and white images every time. Get the guide here.