In addition to photography, video services are becoming increasingly popular today. As a result, many professional photographers learn video montage and editing in order to provide their clients with more than simply images. For example, if you're a wedding photographer, you may record small clips and edit them together to create a movie or a love story that will remind people of the pleasant moments from this day with the help of automatic video editing software.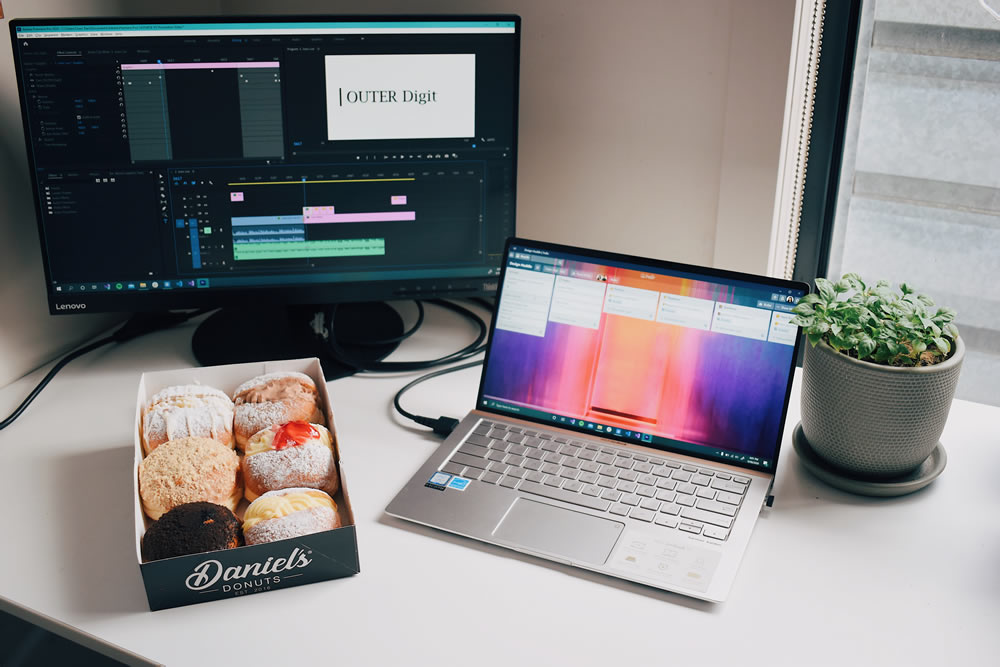 If you are interested in developing in this area, you will definitely need a reliable video editor. In this case, Clipify, an automatic video editor, comes to the rescue. With the help of this software, you'll be able to succeed in your business and create an engaging and interactive visual experience.
Auto Enhancement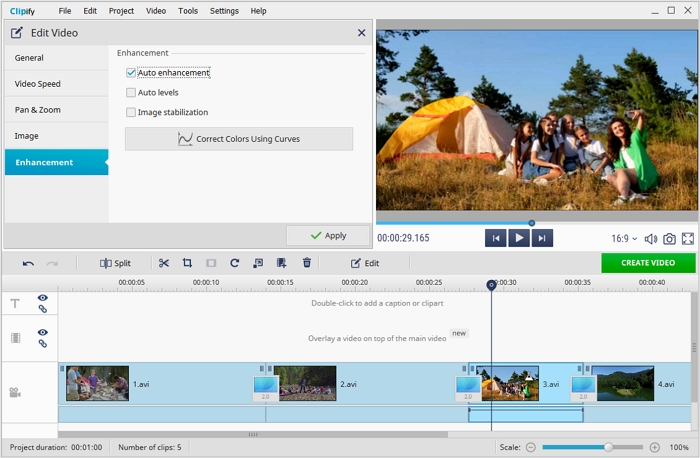 Clipify offers an interesting function called Auto Enhancement. It increases the lighting and contrast of your video, deepens the tones, and makes the overall movie appear a lot better with a single click, even if you captured it with your smartphone camera.
Even if you've never used automatic video editors before, you'll handle this feature. What is more, using the Auto Enhancement tool you'll simplify the editing process and will be able to send the project to your clients as soon as possible.
Footage Cropping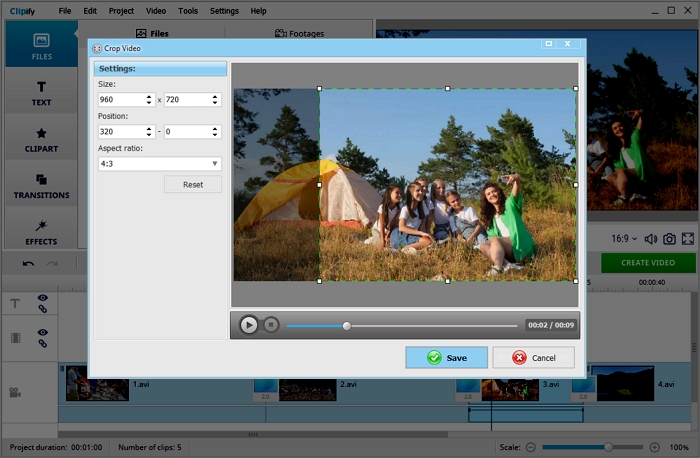 Cropping​​ is the process​​ of removing unwanted​​ parts of a video​​ by adjusting​​ its dimensions​​. With Clipify, you can quickly adjust the aspect ratio, zoom in on the clip to change the focus, and crop the frame to eliminate irrelevant elements.
The software comes with various cropping presets to customize content for different platforms and devices, allowing you to create videos that are optimized for specific social media platforms.
Split Videos Into Parts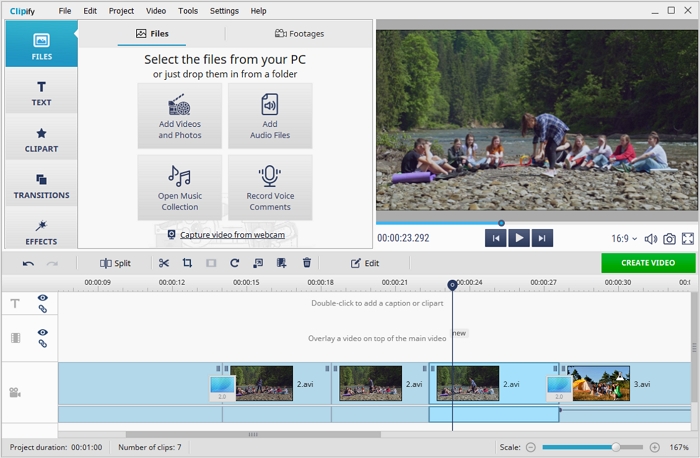 With Clipify, splitting a video into parts becomes possible for any user. With its tools you can easily divide your footage into smaller clips to rearrange their order, which can be useful for storytelling or creating a specific narrative.
When using Clipify, you do not need to take any extra steps, as the video splitting function is always available in the toolbar and is easy to find.
Change Footage Speed
Changing video speed refers to the process of altering the playback speed. This can be done to speed up or slow down the video's playback, and can be useful for a variety of purposes, such as creating slow-motion effects or speeding up a long clip.
The software offers a set of different playback speeds that can help you enhance storytelling by emphasizing certain elements of a video and creating a more engaging viewing experience.
Voice Over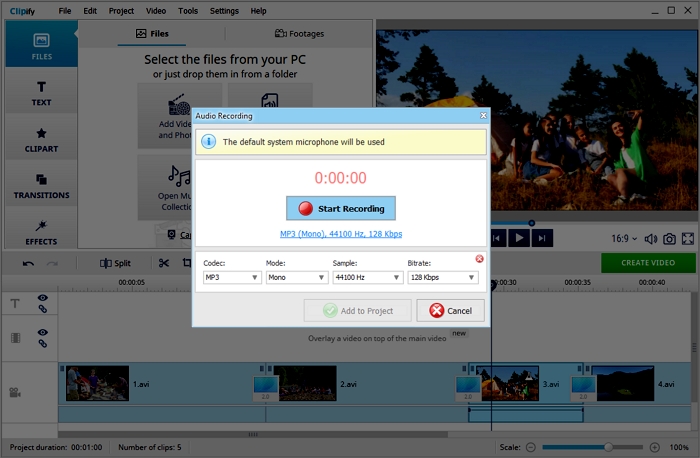 Voice over makes videos more engaging and memorable for the audience than a movie alone, increasing the completion rate, time spent, or content consumed by the audience.
Clipify offers a handy voice over tool that will help you give your video a personality. With its help, you can easily record your voice, edit the recording, and add it to your project in mere minutes.
Footage Stabilization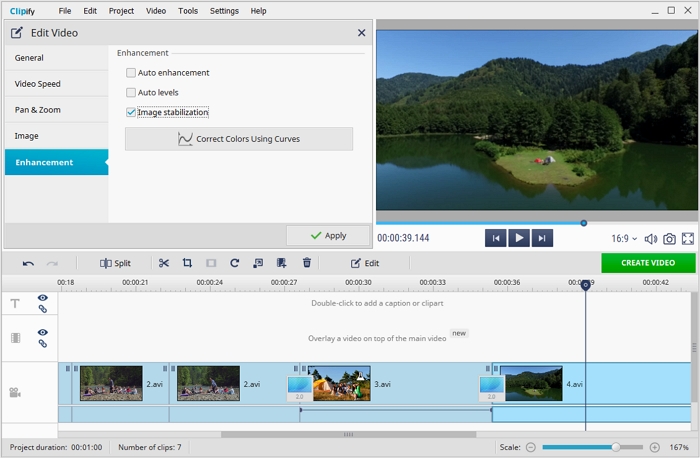 Clipify will come as a nice surprise if you assume that video editing software must be complicated and pricey. The overall quality can be improved by using its stabilization algorithms to eliminate unintentional camera jitters and shakes caused by hand jiggling and accidental panning.
What is more important, you can improve your clips automatically. That is why you won't spend hours on figuring out how to complete the task, just one click and your video is stabilized.
Picture Overlay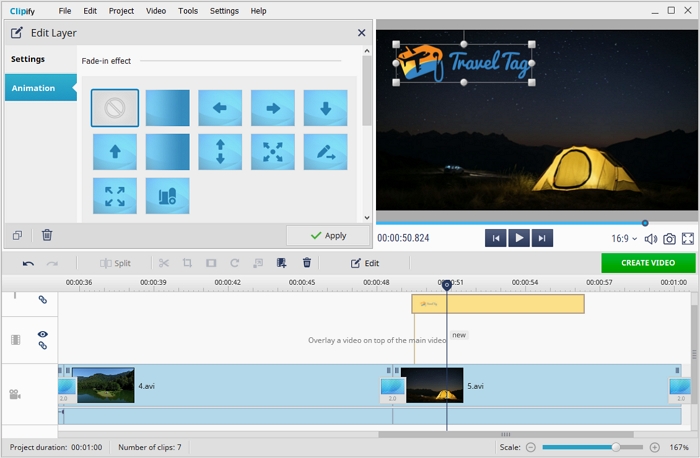 Making videos is a great way to express yourself. But how to make it more engaging? With Clipify, you can put a picture over a clip with a couple of clicks, as the software has all the necessary tools to make this process quick and easy. The editor has a collection of cliparts and stickers to choose from. However, it gives the opportunity to add your own images.
Final Words
This automatic video editing tool is a perfect way to make the most of your footage. It's easy to use and developed for people of all skills and computers of all grades. Clipify will give you everything you need to create awesome movies all by yourself.
At the same time, the software offers different advanced features that make Clipify suitable for professional projects with animations. Besides, this automatic video editing software has all the export formats you require within.
---
Related Articles: