Best Nikon Landscape Lenses for Zoom 2022
Widest to Longest (Full Frame + DX)
If you decide to buy anything after clicking on our Amazon links, you automatically support us. It's what allows us to write guides such as this one.
1. Nikon 10-24mm f/3.5-4.5G ED (DX Only)
The Nikon 10-24mm f/3.5-4.5G ED is more or less your default option if you have a DX camera and want the widest zoom available.
It's not the cheapest, but it's worth the money if you like the range and don't care too much about low light shooting. For landscape and most outdoor photography, f/3.5 to f/4.5 is plenty of light, especially if you're using one of newer Nikon cameras that can handle high ISO pretty good.
Mounted on a Nikon DX camera, its field of view is equivalent to a 15-36mm, which is the most common wideangle length on FX cameras.
Image quality and colors are very good, but you might notice some distortion and softness when shooting wide open at ~10mm. This is expected and is common with all extreme wide angle lenses, and the Nikon actually performs really well for the price.
It's got 2 Extra Low Dispersion elements that reduce chromatic aberration and other lens issues, 3 Aspherical elements to reduce the coma, and SWM for quick and silent auto focusing.
If you don't care about low light, and want the most zoom for your DX camera, no other lens beats the 10-24mm..
You can buy it at Amazon or see more reviews here.
2. Nikon 11-16mm f/2.8 Pro DX II (DX Only)
For low light, indoor and astrophotography, the Tokina 11-16mm f/2.8 is a great choice.
It's actually really good lens for landscape and outdoor use, but it depends on if you're okay with 11 to 16mm range. It's not a lot, so you're always going to be "stuck" with extreme wide angles.
It costs a lot less than most other lenses on this list, has a great build quality and allows you to shoot at f/2.8. As you will see with other lenses, f/2.8 makes a zoom a lot more expensive, which is why Tokina is so popular among Nikon photographers.
Compared to the 10-24mm above, the Tokina feels better built and also looks sharper when you reach the same aperture sizes. On the other hand, it displays more flare and chromatic aberration, so you'll have to correct those in post, especially if you shoot RAW.
In short, get the Tokina if you want to spend less, shoot with f/2.8 (also for low light) and don't care about having a lot of zoom.
You can buy it at Amazon or see more reviews here.
3. Tamron 15-30mm f/2.8 Di VC USD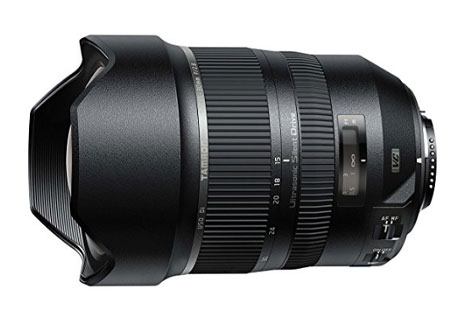 Wide zooms from third-party lenses that would challenge more expensive Nikon zooms are hard to find, but the Tamron 15-30mm f/2.8 Di VC USD does just that.
It was made to rival Nikon's famous 14-24mm f/2.8G and Canon's 16-35mm f/2.8 series. None of these have any stabilization added though, and that is perhaps Tamron's strongest selling point right now. That, and the low price combined with excellent image quality! Check out Dpreview's comparison between 14-24mm and Tamron 15-30mm here.
We had a tough time deciding whether we should put both the Nikon 14-24mm and Tamron on this list, but seeing how close (and even better somewhere) the Tamron is, we had to go with it. It's cheaper, has more zoom on the far end (although you lose 1mm, which to some may be important) and offers Vibration Reduction which is really useful especially if you record hand held videos.
The Vibration Reduction (VC) mechanism helps up to 3 stops (you can see it in TDP's review here), which means you can shoot with 1/8 where you'd normally have to choose 1/60.
Thanks to USD (Ultrasonic Silent Drive) it focuses quietly and accurately. Third-party lenses are never as good as Nikon lenses, so you can expect hunting every now and then in low light, but it's very fast and usable for action as well!
You can buy it at Amazon or see more reviews here.
4. Nikon 16-35mm f/4G ED VR
The Nikon 16-35mm f/4G ED VR is another excellent lens, although it costs only around $100 less than the Tamron.
What are the pros and cons compared to the 15-30mm?
You can use normal filters on the 16-35mm f/4
The 16-35mm is a lot smaller and lighter (almost twice as less)
5mm more on the telephoto end.
A lot of people find the dimensions to be very important, so if for your traveling needs you want to be as light as possible, the 16-35mm wins big here.
On the other hand, the Tamron lens for Nikon being just a little bit more expensive, it gets you an f/2.8 aperture, slightly better image quality in corners and 1mm extra which is very useful when shooting in tight indoor spaces.
Both lenses have Vibration Reduction, so it'll ultimately come down to whether you find the 3 advantages of the 16-35mm f/4 to be crucial for your needs.
You can buy it at Amazon or see more reviews here.
5. Sigma 18-35mm f/1.8 DC HSM Art (DX Only)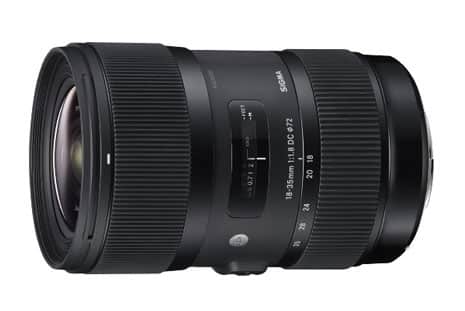 The Sigma 18-35mm f/1.8 DC HSM is an impressive piece of glass; f/1.8 in a zoom is something we've never seen before.
All of this would be useless if the optical performance was crap, but its the exact opposite. It belongs to Sigma's Art series and has excellent image quality, sharpness, colors and overall performance. Since it's only for DX mount, its field of view is equivalent to a  27-52mm. Not extremely wide, but it still starts where the 18-55mm kit lens begins and it's acceptable for DX cameras.
The lens is razor sharp and offers fast auto focus thanks to the Hyper Sonic Motor, but because of f/1.8 it's relatively big and heavy. You can see the specifications here; at 28.6 oz (811g) and 3.1″ x 4.8″ (78mm x 121mm) it's not compact.
It does feel very solid though and professional like, but it's not weather-sealed. It takes 72mm filters and has a minimum focusing distance of 11″/28cm. If you often shoot in the 18-35mm range and would like something appropriate for low light as well, the Sigma wins here.
It serves as a both landscape and casual lens (portraits, pets, parties) thanks to the f/1.8 and 50mm length on DX.
You can buy it at Amazon or see more reviews here.
6. Nikon 24-70mm f/2.8G ED AF-S
We only recommend the the Nikon 24-70mm f/2.8G ED for FX cameras. Why? Because it'll be too long on DX cameras to be used as a wideangle lens.
It's expensive, yet worth every dollar. The 24-70mm range is useful for almost all types of photography, from landscape, indoors, weddings, cities, traveling etc. The 24-70mm lens is extremely popular with every brand, and the Nikon is no exception.
There's a cheaper Tamron 24-70 f/2.8 with Vibration Reduction and similar image quality. However, what ultimately led us to go with Nikon was more solid build quality and construction, and a faster, more reliable AF system even in low light. If you don't need the latter to be sports-like, then you'll appreciate the cheaper Tamron. You can check out the comparison at Camera Labs, where both corner and center performance look similar for both lenses. As of 2015, Nikon also sells their own 24-70mm f/2.8 VR but it's at around $2,200.
The 24-70mm is also a bit heavier than the 24-120mm below, but it balances nicely with bigger FX models (such as the D810).
You can buy it at Amazon or see more reviews here.
7. Nikon 24-120mm f/4G ED VR
We find the Nikon 24-120mm f/4G ED VR to be the best bang for the buck. It does offer a lot of zoom but nothing unrealistic, the aperture stays at f/4 throughout the whole zoom and Vibration Reduction is a big plus when working with longer lengths.
Again, due to its starting point 24mm, we recommend it to FX users. A lot of people also imagine wide angles when speaking about a lens for landscape photography, but quite often you'll also find something interesting further away, and that's where the 120mm length hops in. Sometimes you want to capture animals you encounter, get closer to flowers or just capture mountains far away.
There's also the new Sigma 24-105mm f/4 that we wanted to go with first, but the extra 15mm on the far end is what convinced us to choose Nikon. They are both optically great and can be used as your only lens, but the Sigma is $200 cheaper (same minimum focus distance and weight).
You can buy it at Amazon or see more reviews here.
8. Tamron SP 70-200mm f/2.8 Di VC USD G2

The Tamron 70-200mm f/2.8 Di VC USD G2 was released a few months ago and is our favorite 70-200mm lens out there. If you already have something that covers a wide angle but are looking for a high quality telephoto to capture more than just nearby scenery, a lens that goes to 200mm is recommended.
Here's why. It's cheaper than the rest, delivers nearly identical image quality and sharpness, has great Vibration Reduction with 5 stops of help and great auto focus. On top of that, you get 6 years US warranty! Talk about customer support.
Compared to Nikon's most expensive 70-200mm f/2.8 FL, you could get two Tamron's for that price. The image quality is nearly indistinguishable between the two, however the Nikon is slightly more accurate when it comes to auto focus. The Tamron is good, don't get us wrong, and it's precise and quiet, but there's only a few people that would be willing to spend twice as much to get even better AF than what you get with this lens.
For landscape, having the absolute fastest AF is not such a priority, which is why it's better to save the money.
The lens is perfect even for high megapixel DSLR cameras such as the D810 with its 36MP sensor. The VC works wonderfully up to 5 stops so you can expect sharp results with 1/15 where you'd need ~1/500 normally. The lens has weather sealing so if you're shooting outdoors in difficult weather, or happen to be near water, you've got much less to worry about.
You can buy it at Amazon or see more reviews here.