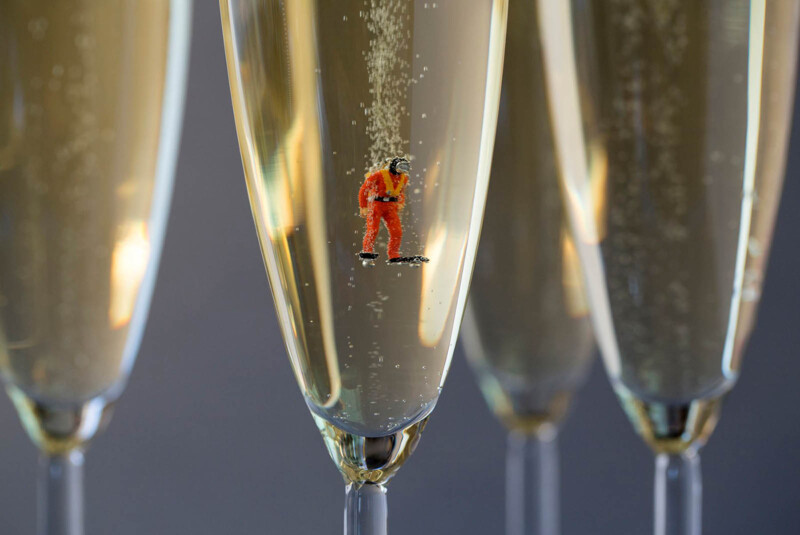 Back in December, a young man walked into one of the fine art galleries that represent my photographs and engaged the gallery owner in a conversation about some of my prints. He seemed to be familiar with my work, said that his girlfriend was actually a fan, and remarked that he had been thinking of buying her a piece.
The gallery owner's first impression was that the guy didn't seem like the typical art buyer. But not wanting to judge a book by its cover, he chatted with the man for a while. The notion of an eccentric art buyer, outside of the typical mold, certainly wasn't beyond the realm of possibility. The man was maybe around 5' 10" tall, with curly black hair, light-skinned, perhaps Middle Eastern. He didn't seem to speak with any kind of accent. His vernacular, like his clothing, was sort of "hip hop."
The guy ultimately decided to buy three photographs that day, with a total order that was more than $10,000. He mentioned that he did consulting for some clubs in Miami that were owned by his girlfriend's father. But he admitted candidly that he had to be careful about his spending as his relationship with the father was a bit strained.
When it came time to make the payment, he used Apple Pay on his phone, asking if he could spread out the order over a few different credit cards. He explained that he had separate budgets for the clubs that he had to accommodate. He provided a billing address in Miami. However, he asked that one of the photographs, a 24×36" acrylic-dibond mount of Champagne Scuba (2014), be shipped to his place in Denver. He'd make arrangements for the other two pieces to be shipped later. The charges went through without any issues.
A Refund Request
The next day the customer called the gallery in the early afternoon. The gallery owner said that it seemed to him that the guy sounded groggy, hung over, as if he'd been out late partying. The customer said that, upon reflection, he had maybe spent a bit more the previous day than was prudent.
He mentioned a father back in Dubai that might be angry with him. So he asked if he could refund two of the three pieces he had purchased. He still wanted to proceed with the Champagne piece that was to be shipped to Denver. And he did ultimately want the other two photographs, but he said it would be better if the clubs in Miami would contact the gallery after the holidays, and pay for them directly from a different budget.
The gallery put the man on hold for a couple of minutes while they processed a partial refund to his methods of payment, using the transaction numbers from the previous day. When this was complete, and they told the customer it was done, the man grew angry and frustrated. He barked that he had wanted to designate the accounts the refunds would be applied to. It was too late to do that as the refunds already went through. The man hung up abruptly.
Shipping the Order
The gallery called my studio that day to ask if I could print and mount a new Champagne Scuba photograph for them. They had one in inventory at the gallery, but as it was a popular piece, they wondered if I would "blind ship" one from my studio directly to Denver so they could hold on to the one they had. Of course, I said it was no problem.
The gallery owner mentioned that he felt slightly uneasy about the buyer. His intuition was telling him that something didn't seem right. He mentioned the shipping address in Denver, the billing address in Miami, and a reference to family back in Dubai. But he did confirm that the payment went through. And he did express the possibility of additional sales after the holidays.
The contact information for the delivery was:
  Gebe Gazanine
  2180 S. Colorado Boulevard
  attn: Nancy/ Receiving Room
  Denver, CO 80222
  786-575-4196
Before I placed the order that day I did a little research on my own. I first looked up the shipping address on Google Maps, to see if the location was some kind of freight forwarder or a shady-looking house. What I found was a fairly new-looking apartment building, the Deco Apartments.
I tracked down a telephone number for the management of the building and reached a very friendly and helpful young woman. I launched into my fairly unusual story behind the reason why I was calling. And even before I could finish she verified that, yes, she knew Gebe Gazanine and could confirm that he was a resident there.
She also said that, yes, Nancy Richardson was indeed the staff member at the property who was in charge of receiving packages. I thanked her for the confirmation and based on that information I figured the order (or at least the shipping information) was legit. And so I proceeded.
As is fairly standard for the season, it was a very busy time for fine art sales, as people decide (sometimes at the last minute) to give photographs to loved ones during the holidays. We doubled our efforts to get everything printed, signed, and shipped out as quickly as we could.
The order had admittedly come in a bit late. But we hustled to get the order out the door, and we were able to have the photograph delivered via Fed Ex to Mr. Gazanine by December 26th. From there everything proceeded as usual. The gallery wired my commissions for December sales and life went on into the new year.
A Sign of Trouble
The first sign of trouble did not come until more than five weeks later when Visa contacted the gallery's credit card processor to inform them that the sales transactions for the order from mid-December had been reported as fraudulent and that they would be debiting back the amount of the sale.
The gallery owner seemed fairly forlorn about being duped and kicked himself for not listening to his intuition. But I admitted to him that I consider myself fairly savvy about online schemes, and yet I hadn't heard of this one. I don't know that I would have figured it out while it was happening, especially during such a frenetic season.
I reminded him of the Henri Matisse quote, and I'm paraphrasing, that instinct is something that should be pruned like a tree. Matisse was right, of course, instinct and intuition need to be carefully shaped and can never be trusted 100%. Though obviously in this case, we ought to have left the pruners in the shed.
That same day I contacted the Denver Police who directed me to file the report of this grand larceny here in Seattle, as it needs to be submitted where the victim resides. So the Seattle Police took a report over the phone the same day, calling back a couple of times with additional questions (which I took as a good sign that they might give this case some time and attention).
I also called the management company at the Deco Apartments, explaining what had transpired and leaving messages for Nancy Richardson, the woman who would have received the package, and Brandon Williams, who I was told was the building manager. But I'm disheartened to say that neither returned my message.
When I followed up again a few days later, they were much less friendly and helpful. I was told in no uncertain terms that they wanted nothing to do with this situation. Apparently one of the amenities of the Deco Apartments Denver, along with a mountain view rooftop deck, in-house cycle shop, a pool, fitness center, and ski simulator, is that they won't assist anyone trying to hold their tenants responsible for their crimes, including situations in which they may have facilitated that crime. What happens at Deco stays at Deco.
The Scam Becomes Clearer
In the weeks since this situation was first reported to me, I've gained a bit more perspective about what was going on here.
First, it is fairly clear that the man who walked into the gallery is not the same person that the photograph was shipped to. I suspect that Gebe Gazanine is merely a mule of some kind. Investigators in Denver are looking into whether he is an unwitting participant or part of a wider organized crime network, something that perhaps could have been resolved quickly if the Deco Apartments management had not so quickly washed their hands of the situation.
An online report was filed with the FBI field office in Denver – who obviously have bigger fish to fry – but I figured it didn't hurt as this grand larceny did involve interstate fraud, in multiple jurisdictions, and could be related to wider organized crime, especially if this alleged mule might be receiving (and forwarding) cash or gift cards from the victims of other financial scams.
From what I'm told this is a credit card refund scam. Every detail of the original story, told by the buyer, likely was concocted. The purchase was made with multiple stolen credit card numbers and the intention was to direct the refunds to different credit card numbers that the criminal controlled, thus laundering the funds and preventing that money from being recovered. By issuing the refunds to the original form(s) of payment, via the original transaction numbers, the gallery owner unknowingly thwarted the scheme and left the criminal empty-handed.
The fact that they proceeded with the purchase of one of the three photographs was simply so the gallery owner would not grow suspicious had they asked to cancel and refund the entire order. They probably never had any interest in my photographs. There is a real possibility that the recipient of the December 26th shipment threw it in a dumpster, that he'll sell it for a few bucks, or maybe has put it up on the wall in his apartment.
The objective here was the money. And I doubt any of them are giving much thought to the independent visual artist and small businesses they have stolen from (during the holiday season no less).
As this is an active investigation, I have no idea how this story ends. Champagne Scuba has been a popular piece in the Big Appetites series, and in fact, the photograph that was stolen was edition number 30 of 30. So while other sizes of the photograph are still available, it is now (thanks to the thieves) sold out in the popular exhibition size (with the exception of a couple of pieces still held in gallery inventories).
Of course, the theft has been reported to stolen art registries so if it ever turns up for sale or auction by a legit gallery it should get flagged. But in the meantime, I'm still the victim of a physical theft of one of my fine art photographs. That the photograph was ancillary to the main objective, and the thieves didn't really succeed with their scam, is cold comfort.
More often than not I'm the victim of digital theft of my work (which is no less violating). So this was a first in that a physical piece was stolen… if you don't count the deranged man who broke into my gallery in Boston several years ago, who stole and vandalized several pieces of work (including another Champagne Scuba piece, coincidentally) and who was later apprehended by the Boston Police Department after an incident in which he threw some of the stolen artworks through a plate glass window at the Isabella Stewart Gardner Museum. (I guess that's one way to get your work into museums).
With overworked, understaffed police departments I don't have much confidence that they will have time to track down my stolen photograph. But I certainly will update this article with any new developments.
---
About the author: Christopher Boffoli is a fine art, commercial and editorial photographer based in Seattle, Washington. The opinions expressed in this article are solely those of the author. Boffoli is best known for his Big Appetites work, which features tiny figures posed against real food landscapes. In addition to his commercial and advertising work for brands large and small, his fine art photographs may be found in galleries and private collections in the United States, Canada, Europe, and Asia. You can find more of Boffoli's work on Instagram. This article was also published here.