Trying a different genre of photography is a great way of renewing your interest and stretching your photography skills. Portrait photography is a form of photography that focuses on capturing the personality, mood, and emotions of a person through their facial expressions and body language. It is a way for photographers to showcase their artistic skills and tell a story about the subject of the photograph. Portrait photography can be done in a variety of settings, including studios, outdoor locations, and candid moments.
Regardless of your skill level, portrait photos are a rewarding and challenging art form that allows you to create meaningful and lasting memories for your subjects. Check out the following guides that will help you to produce amazing portrait photographs.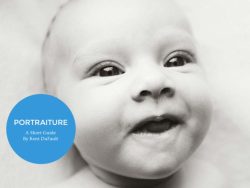 As a photography enthusiast, you may have invested in equipment like a better camera, additional lenses, or even an external flash. But I understand that maybe you're feeling a pull to venture beyond the typical subjects of barns, fences, and dilapidated buildings. You may have noticed that your photographs often lack the engaging presence of people! This guide aims to help you improve your portrait photography skills by covering important topics such as lighting, focal length, focusing, framing, camera settings, and more. You'll get tips on how to choose the right lens, consider the background and clothing of your subjects, and even incorporate props for added visual interest. Whether you're shooting headshots, full length portraits, or group shots, this guide will help you create compelling images of the most interesting subject of all: people. Check it out! Download now →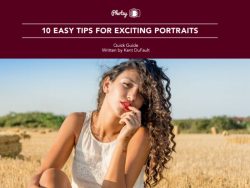 Our role as photographers is to infuse creativity into our portraits to make them stand out and not look like they could have been taken by anyone. Here, photographer Kent DuFault shares his insights on the importance of incorporating creative vision into our work. As the title tells you, this guide offers 10 tips for creating compelling portraits that won't cost a penny to implement. These tips will give any photographer the boost they need to create attention-grabbing images. Download now →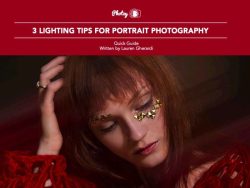 The art of portrait photography is all about capturing compelling images of people. It can be a bit intimidating for some photographers, especially when you're just starting out. A common concern is the cost of gear, but if you're looking to make money with your photography, portraiture is often the way to go. To guide us through the process, we've enlisted the expertise of master photographer Lauren Gherardi. Specializing in fashion and portraiture, Lauren is also an advocate for traveling light, which makes her the perfect fit for today's theme: lighting portraits with a single electronic flash. She'll be sharing her top three tips for achieving beautiful, professional-quality results. Download now →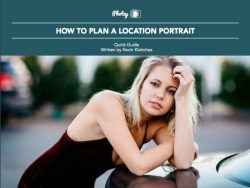 If the thought of shooting location portraits makes you a little nervous, you're not alone! As a beginner, it can be intimidating to plan and execute a successful photo shoot. But with the right guidance, you can create stunning, creative location portraits that will have potential clients clamoring to book you. In this free quick guide, Kevin Kleitches shares his expertise on everything you need to know to plan and produce a successful location portrait session. Whether you're interested in shooting high school senior portraits or targeting the millennial market, Kevin covers all the details, from figuring out the type of portrait you want to create to finding the best light and working with your subjects to achieve a natural, exciting look. He also covers wardrobe, hair and makeup, and offers tips on post-processing your images. Definitely check it out. Download now →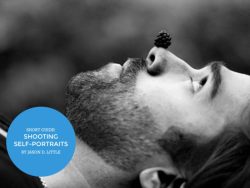 We all know that "selfies", or self-portraits taken with a smartphone, is the common way for people to capture and share images of themselves. But the art of self-portraiture has long been a favorite among photographers, who see it as an opportunity to create a standalone work of art that also makes a statement about the artist. In this guide, photographer Jason D. Little covers everything you need to know to get started with self-portraiture, from getting the image in focus and choosing the right lighting, to selecting helpful equipment and framing the shot. He also offers tips and examples for post-processing your images to make them pop! Wherever you are on your photography journey, this guide has something for everyone interested in exploring the world of self-portraiture. Download now →
Want to Create Incredible and Memorable Portraits?
Creating a great portrait is an extremely satisfying endeavor. Discover the insider secrets used by professionals and produce your own inspiring and memorable images that convey real meaning and emotion using Photzy's Premium Guide, The Art of Portrait Photography. If you're ready to craft outstanding portrait photographs, you can check out the guide details here!